Sis's Reflections Upon Herb and Maxine's 50th Anniversary




HERBY FALLS IN LOVE WITH MAXINE

The first time I heard the excitement about Maxine and Herby being in love was right before Herby was to be "shipped out" to the war zone in Germany.
First came the worrisome news about wartime orders.
Mother began worrying about Herby being in the war danger zone.
Then came the good news that would seal a very lovely person into our family forever!
Herby and Maxine were married just before he went to the place
where soldiers did not know if they would come back from alive or in one piece.
Many soldiers married the "loves of their lives" before leaving the shores of the U.S.
Herby phoned long distance about the big news!
Mother had said "Now Herb has fallen in love and how!"
"He took one look and he knew 'this is the sweetest girl I've met!' he wrote."
Herby had been sent to L.A to school and his good buddy
just happened to have a sister there. Guess who!
Beautiful Maxine!
Maxine stayed in LosAngeles, where she was from, when Herby went off to war.
Then the time came for us to meet Maxine!
Herby was to come home for a leave, so his new wife was to come up from
California first, to meet all of us for the first time;
and then to meet him at our house for their big Reunion!
How strange to think this was my brother's wife coming!
So Maxine came first to our house for a great big welcome! just before Herby's furlough home.
How exciting!
We all fell in love with Maxine immediately!
She was beautiful and sweet and loved to chat with a southern accent that was charming.
I was only 9 years old so Maxine became my good friend.
She got down on the floor like a sister and played paper dolls and other fun things with me.
I was surprise to be able to have a new friend as well as sister-in-law!
Then Herby got home for his leave.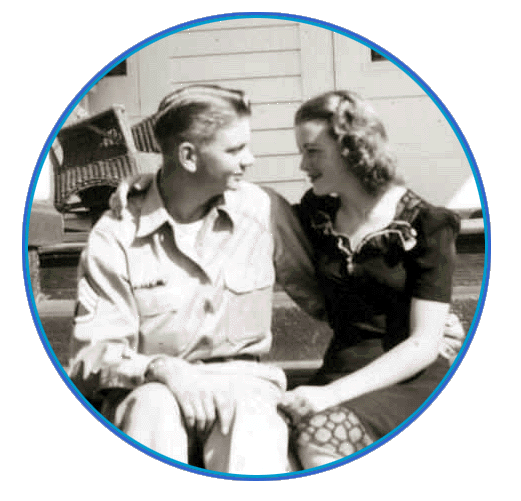 (to be continued..........)